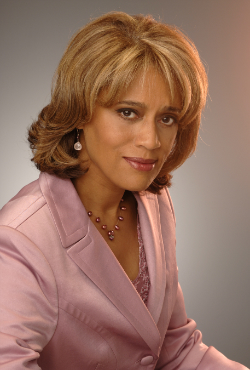 During a two-decade career as a national and international reporter for the ABC and CBS networks, Vicki Mabrey has won a series of Emmy Awards for news coverage.
On April 8, Mabrey, a correspondent for the ABC News show "Nightline," will address honors recipients at North Carolina Central University's 62nd Honors Convocation.
The ceremony, at 10 a.m. in McDougald–McLendon Gymnasium, recognizes academic excellence by more than 200 NCCU students in a number of categories, from the Chancellor's Award and University Award recipients — the university's top honors — to deans' lists and departmental academic honors.
Mabrey was selected as the speaker because of her obvious pursuit of excellence in her field, said NCCU Chancellor Charlie Nelms.
"For Honors Convocation, we want students who've worked hard academically to enjoy and celebrate someone who has sought excellence in their profession and has been recognized for that excellence," Nelms said. "Vicki Mabrey fits that bill."
Mabrey was a pioneer from an early age. At 8, she became the first African-American to integrate her local elementary school in Florissant, Mo. After her degree in political science, she took a job unrelated to the media, but changed careers after seeing a college classmate working on local TV.
She was hired as a production assistant at a Washington, D.C., station in 1983, and was promoted within a year to an on-air general assignment reporter. By 1993, she was a Dallas-based correspondent for CBS News. That year, she received a tip that developments were about to break at the standoff between federal agents and members of the Branch Davidian cult. During a span of 55 days, she provided often-continuous coverage of the standoff.
From 1999 until she joined "Nightline" in 2005, Mabrey was a correspondent for CBS' "60 Minutes II."
She is the recipient of four Emmy Awards, two for her reporting on the death of Princess Diana, and for coverage of the Atlanta Olympics bombing and the crash of TWA Flight 800.
NCCU also confers honors for performing arts distinctions, community service, and membership in professional and academic honor societies. Students receive a lapel pin that distinguishes them as honor students, which is worn during the week of convocation and on Convocation day. A reception for honorees, in Alfonso Elder Student Union, follows the convocation.