Bassist, composer, educator and actor John Brown is a native of Fayetteville, North Carolina, and currently resides in Durham, NC. He is a graduate of the School of Music at the University of North Carolina at Greensboro and the School of Law at the University of North Carolina at Chapel Hill. He currently serves as Director of the Jazz Program and Associate Professor of the Practice of Music at Duke University, and has served on the faculties of the University of North Carolina at Chapel Hill, North Carolina State University, North Carolina Central University and Guilford College (NC).
When he was very young, John took piano lessons from Frances Hunter (a close family friend), and began studying the bass when he was just 9 years old with his beloved teacher, Susan Ellington. He has been performing ever since. John began performing with the Fayetteville Symphony Orchestra (NC) at age 13, and he was playing Principal Bass with that orchestra and performing with the Florence Symphony (SC) while still in high school. As a student in Fayetteville, John had several mentors (including Paul Scott, Walter McPherson, Richard H. L. Jones, Hennigan "Buddy" Kearns, Betsy Heath, Felix Sawyer, Jay Bolder, Alan Pierce, Janice James, Joy Cogswell, Alan Porter, Craig Brown, John Cubbage, the late Malachi Sharpe, Tom Gavin, Harlan Duenow and Ernest Plummer) who helped guide his interests and keep him focused on studying music.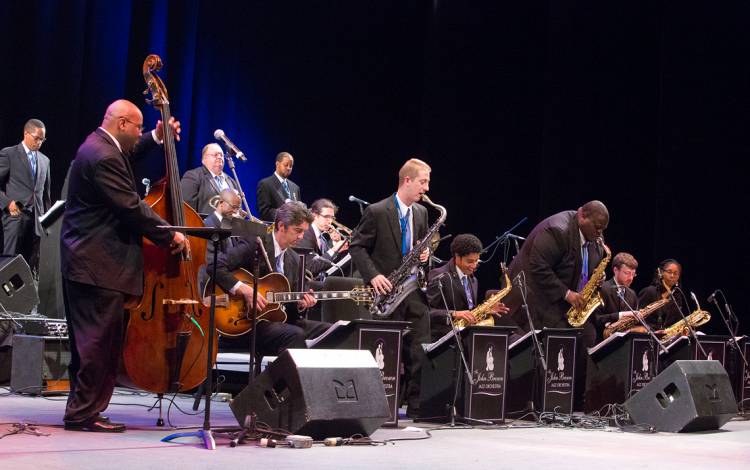 As a student at UNC-Greensboro, he studied bass with Jack Budrow, performed with the Greensboro, Winston-Salem and Roanoke (VA) Symphony Orchestras, and while still an undergraduate, he began performing regularly with the North Carolina Symphony. In college, John also developed a great love for jazz, and began pursuing performance opportunities in both jazz and classical music. In college, he teamed with fellow student Thomas Taylor to form the jazz quartet, "In the Black," and the group enjoy a successful career performing in the region.
John has since performed in the United States and abroad with artists like Wynton Marsalis, Ellis Marsalis, Delfeayo Marsalis, Elvin Jones, Nnenna Freelon, Diahann Carroll, Rosemary Clooney, Nell Carter, Lou Donaldson, Slide Hampton, Nicholas Payton, Frank Foster, Larry Coryell, Cedar Walton, Fred Wesley and Mark Whitfield to name a few. John also has a Grammy nomination for his performance and co-writing on Nnenna Freelon's 1996 Concord release, Shaking Free. His extensive experience includes performances at notable venues like Carnegie Hall, the Kennedy Center, the Blue Note, Blues Alley, and the Hollywood Bowl and at major jazz festivals like the Playboy Jazz Festival, the JVC Jazz Festival, the Montreal Jazz Festival, the Free Jazz Festival (Brazil) and Jazz e Vienne (France).
Equally gifted in other areas of performance, John has performed for major theater productions including the Japan tour of Blues in the Night with Roz Ryan, Freda Payne and musical director Rahn Coleman, shows at the National Black Theater Festival, the Broadway Series South and off-Broadway performances in New York. John made his acting debut in 1991 when he co-starred in the role of Jimmy Powers (re-written for John as a bassist) in Lady Day at Emerson's Bar & Grill at the Broach Theatre and performed in the same show (as the onstage performing bassist) with Jackee Harry, also at the National Black Theater Festival. John has also appeared in The Young Indiana Jones Chronicles, Stompin' at the Savoy, Radioland Murders, Hellraiser III, and he recently earned his credentials for membership in the prestigious Screen Actor's Guild (SAG) for his role in the upcoming feature film, Bolden. Among John's television recording credits is the soundtrack for Moon Over Miami on ABC (performed and recorded with Delfeayo Marsalis) and music for One Tree Hill.
In addition to his teaching responsibilities, John performs actively as a leader and as a sideman. His groups give feature performances across the country and regularly participate in education programs like the cARTwheels program sponsored by the North Carolina Arts Council. John's first commercially released recording, Terms of Art – A Tribute to Art Blakey and the Jazz Messengers garnered national attention and reached #8 on the nation's JazzWeek Chart. During the last year of 2007, John joined the ranks of those to have TWO releases appear in the Top 40 of the JazzWeek Chart when Terms of Art appeared at #17 and Merry Christmas, Baby appeared at #39.
John still performs as a substitute with the North Carolina Symphony and the Charlotte Symphony. He is the founding director of the Triangle Youth Jazz Ensemble, And now heads the JAZZFORCE, which is an auditioned group made up of the top performing high school students in a 75-mile surrounding radius of the Triangle area of North Carolina. John now also the founder of the Performing Arts Coalition – a non-profit organization formed to support that supports education and performance arts. John has served on the Boards of the American Federation of Musicians, the North Carolina Jazz Foundation and the North Carolina Jazz Network, and currently serves on the board of the Duke Cancer Patient Support Program. Additionally, John works with his business partner Tim Hudson representing artists through the Hudson Brown Agency. John is a YAMAHA Certified String Educator and he officially endorses Acoustic Image Amplifiers, AMT Microphones and Warwick basses, amplifiers and loudspeakers.
---
Originally published at jbjazz.com
Photo credits:
Homepage, photo #1 & 3 above – jbjazz.com
Photo #2 above – today.duke.edu
Photo #4 above – indyweek.com