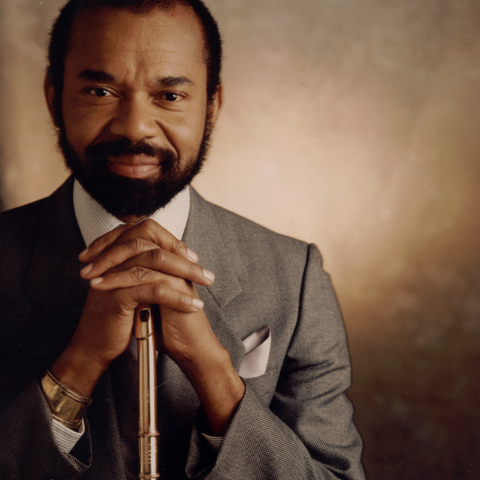 Internationally renowned flutist Hubert Laws is one of the few classical artists who has also mastered jazz, pop, and rhythm-and-blues genres; moving effortlessly from one repertory to another. He has appeared as a soloist with the New York Philharmonic under Zubin Mehta, with the orchestras of Los Angeles, Dallas, Chicago, Cleveland, Amsterdam, Japan, Detroit and with the Stanford String Quartet. He has given annual performances at Carnegie Hall, and has performed sold out performances in the Hollywood Bowl with fellow flutist Jean-Pierre Rampal and was a member of the New York Philharmonic and Metropolitan Opera Orchestras. In addition, he has appeared at the Montreux, Playboy, and Kool Jazz festivals; he performed with the Modern Jazz Quartet at the Hollywood Bowl in 1982 and with the Detroit Symphony in 1994. His recordings have won three Grammy nominations.
Mr. Laws has been involved in unique projects such as collaborations with Quincy Jones, Bob James, and Claude Bolling for Neil Simon's comedy California Suite, a collaboration with Earl Klugh and Pat Williams on the music for How to Beat the High Cost of Living: and film scores for The Wiz, Color Purple, A Hero Ain't Nothing but a Sandwich, and Spot Marks the X.
There are 23 albums in Mr. Laws' discography for such record companies as: Atlantic, CBS, CTI, including: "My Time Will Come," and "Storm Then The Calm" for the Music Masters record label.
Session work also remains a staple of Hubert Laws' schedule, and includes collaborations and recordings with such artists as Quincy Jones, Miles Davis, Herbie Hancock, Chick Corea, Ella Fitzgerald, Sarah Vaughn, Freddie Hubbard, Paul McCartney, Paul Simon, Aretha Franklin, Lena Horne, Sergio Mendes, Bob James, Carly Simon, Clark Terry, Leonard Bernstein and the New York Philharmonic.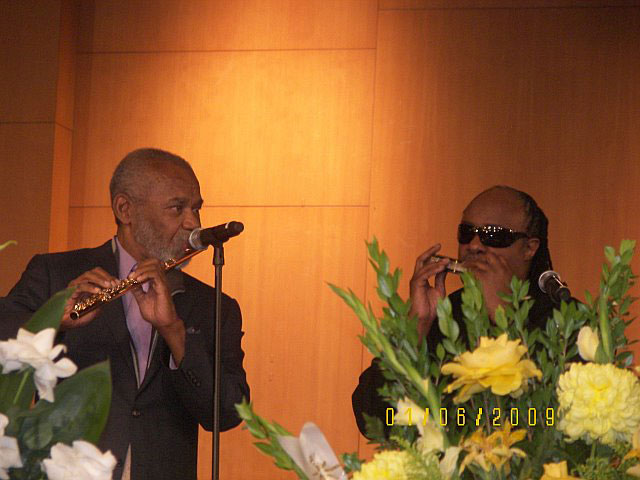 In addition, Mr. Laws maintains his own publishing companies, Hulaws Music and Golden Flute Music, and he founded Spirit Productions in 1976 to produce his own albums and those of promising new artists. He was selected the THE #1 FLUTIST FOR 24 YEARS: Down Beat readers' polls ten years in a row and was the critic's choice seven consecutive years. Currently awarded Downbeat #1 flutist 2007, 2009, 2010, 2011, 2012, 2013, 2014
Received National Endowment Jazz Masters award 2011.
Born in Houston, Mr. Laws' musical education came from various sources. He grew up directly across from a honky-tonk called Miss Mary's Place, his grandfather played the harmonica, and his mother played gospel music on the piano. His classical training got under way in high school. He later enrolled in the music department at Texas Southern University. During this period, he arranged to study privately with Clement Barone who Mr. Laws considers had a profound effect on his development. From there he traveled to Los Angeles with the Jazz Crusaders where he won a scholarship to the Juilliard School of music in New York City. Mr. Laws completed his studies and obtained his degree at the Juilliard School of music in New York City under tutelage of the renowned flutist Julius Baker.
---
Originally published at hubertlaws.com
Photo credits:
Homepage – houstonjazzfestival.org
Above- hubertlaws.com