Dexter Keith Gordon was born on February 27, 1923 in Los Angeles, C.A. His father, Dr. Frank Gordon, was one of the first African-American doctors in Los Angeles who arrived in 1918 after graduating from Howard Medical School in Washington, D.C. Among his patients were Duke Ellington and Lionel Hampton. Gordon"s mother, Gwendolyn Baker, was the daughter of Captain Edward Baker, one of the five African-American Medal of Honor recipients in the Spanish-American War. He is considered to be the first musician to translate the language of Bebop to the tenor saxophone.
Gordon began his study of music with the clarinet at age 13, then switched to the alto saxophone at 15, and finally to the tenor saxophone at 17. He studied music with Lloyd Reese and at Jefferson High School with Sam Browne. In his last year of high school, he received a call from alto saxophonist Marshall Royal asking him to join the Lionel Hampton Band. He left Los Angeles with the band, traveling down south and learning to play from fellow band members Illinois Jacquet and Joe Newman. In January 1941, the band played at the Grand Terrace in Chicago for six months and the radio broadcasts made there were Dexter's first recordings.
It was in 1943, while in New York City with the Hampton band, that Gordon sat in at Minton's Playhouse with Ben Webster and Lester Young. This was to be one of the most important moments in his long musical career as, as he put it, "people started to take notice." Back in Los Angeles in 1943, he played mainly with Lee Young (Lester Young's brother) and with Jesse Price plus a few weeks with the Fletcher Henderson Orchestra. In 1944, he worked with Louis Armstrong 's orchestra which was one of the highlights of his careers. Being in the company of the great trumpet master was inspiring and gave him insight into the world of music that he never forgot. It was during this period that Gordon made his first lengthy solo recordings as the leader of a quintet session with Nat "King" Cole as a sideman.
In 1944, Gordon joined the Billy Eckstine band, the source of many of the Bebop innovators of the time and many of the most prominent bandleaders in the future. He was surrounded nightly by Sarah Vaughan, Dizzy Gillespie, Fats Navarro, Sonny Stitt, Gene Ammons, Leo Parker, John Malachi, and other architects of the new music. He began to record for Savoy Records in 1945 with tunes such as Blow Mr. Dexter, Dexter's Deck, Dexter's Cuttin' Out, Long Tall Dexter (none of which were named by the composer). These early recordings are examples of the development of his sound and his style which influenced many of the younger tenor players of that day, including Sonny Rollins and John Coltrane.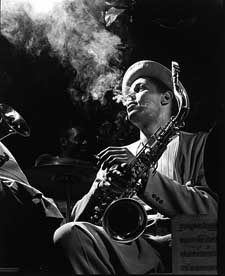 In 1976, Gordon enjoyed a hero's welcome in the U.S. when he made his return engagement at Storyville in New York City with Woody Shaw, Louis Hayes, Ronnie Mathews, and Stafford James. He subsequently played the Village Vanguard, signed with Columbia Records, and was officially back in town. He organized his first working band during this period with George Cables, Rufus Reid, and Eddie Gladden. He considered this band to be his best band and he toured extensively with them and recorded Live at the Keystone (Mosaic) and Manhattan Symphonie (CBS Sony) with the group.
In 1986, Gordon moved into his new career, acting, in the motion picture Round Midnight which was directed by Bertrand Tavernier. He was nominated for an Academy Award for Best Leading Actor in 1986 for his portrayal of Dale Turner, a character based on the lives of Lester Young and Bud Powell. The music for the film won an Oscar for musical director, Herbie Hancock. The film included fellow musicians Bobby Hutcherson, Billy Higgins, Cedar Walton, Freddie Hubbard, Tony Williams, Pierre Michelot, John McLaughlin, and Wayne Shorter. His last major concert appearance was with the New York Philharmonic in Ellingtones, a concerto written for him by acclaimed composer David Baker and conducted by James de Priest.
Gordon died on April 25, 1990 in Philadelphia, P.A.