Archie Shepp is a prominent African American jazz saxophonist. He has been a feared firebrand and radical, soulful throwback and contemplative veteran. He was viewed in the '60s as perhaps the most articulate and disturbing member of the free generation, a published playwright willing to speak on the record in unsparing, explicit fashion about social injustice and the anger and rage he felt. His tenor sax solos were searing, harsh, and unrelenting, played with vivid intensity. In the 70's, Shepp employed a fatback/swing based R&B approach, and in the '80s he mixed straight bebop, ballads, and blues pieces displaying little of the fury and fire from his earlier days.
Shepp was born Fort Lauderdale, FL on May 24, 1937, but raised in Philadelphia, Penn., where he studied piano, clarinet, and alto saxophone before focusing on tenor saxophone. He studied drama at Goddard College for 1955-59, but eventually turned to music professionally. He played in a Latin jazz band for a short time before joining the band of avant-garde pianist Cecil Taylor. Shepp's first recording under Archie Shepp-Bill Dixon Quartet was released on Savoy Records in 1962 and featured a composition by Ornette Coleman. He also established the New York Contemporary Five, which included him, Coleman, and Don Cherry. John Coltrane's admiration led to recordings for Impulse Records, the first of which was Four for Trane in 1964.
In 1965, Shepp released Fire Music, which included the first signs of his increasingly prominent political consciousness and Afrocentricity; it included the reading of an elegy for Malcolm X, and the title is derived from a ceremonial African music tradition. The Magic of Ju-Ju defined his sound for the next few years: freeform avant-garde saxophone lines coupled with the rhythms and ideologies of Africa.
Shepp continued to experiment into the 70s using harmonica players and spoken word poets in his ensembles. With 1972's Attica Blues and The Cry of My People, he spoke out for civil rights. He also wrote for theatre, his works including The Communist and Lady Day: A Musical Tragedy.
In 1971, Shepp began teaching at the University of Massachusetts Amherst as a music professor. He also taught at SUNY in Buffalo, NY. In the late 1970s, he continued to explore African music while also recording blues, ballads, spirituals, and tributes to more traditional jazz figures like Charlie Parker and Sidney Bechet. He is also featured in Imagine the Sound, a documentary in which he discusses his music and poetry.
In 2002, Shepp appeared on the Red Hot Organization's tribute album to Fela Kuti.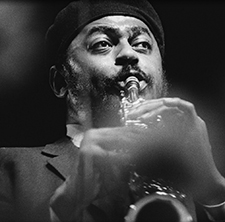 He then found his own record label in 2004 with Monette Berthomier, Archieball. The label is in Paris and features collaborations with Jacques Coursil, Monica Passos, Bernard Lubat, and Frank Cassenti.
Photo credit: