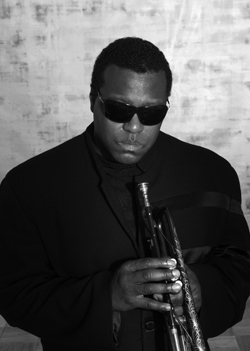 Wallace Roney was born on May 25, 1960 in Philadelphia, PA. Roney studied under Sigmund Hering of the Philadelphia Orchestra at a very young age. During his studies, Roney performed with the Philadelphia Brass Ensemble. Despite all of his accomplishments, Roney had to search for jobs for years. During that time, Roney stayed at his friends' apartment.
His future became much brighter when he took part in a tribute to Miles Davis in Manhattan. After the tribute, Roney met his idol, Miles Davis and received his red horn. Years later, Roney toured with legends Tony Williams and Art Blakey. Roney then became in demand and is among the A-list trumpet players today.
Today, Roney is still kicking it and has over 16 albums to his credit. He is scheduled to be on tour in Atlanta, GA in mid-October. Like the Marsalis family and the Jones Brothers, the Roneys have a musical bloodline. Roney is married to pianist Gerri Allen. He has a younger brother Antoine who plays reeds. His son, Wallace Roney, Jr. is a drummer. For more information, go to the official website www.wallaceroney.com.
Photo credits:
Photo #1 on homepage – www.nocimages.lesite.pro
Photo #2 on this page – jazzmatrix.com